Selling your home is not like just opening up shop and marketing our products, it's far more complicated and needs professional help, but one could do it if you know the basics and really are aware of what you want.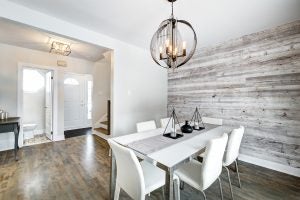 But there are methods of increasing the chances of your home selling speedily and at the correct price. One way is by staging your home for all prospective home buyers to appear as welcoming, attractive and artistically pleasing as possible. When customers enter a prospective new home, they must be able to see themselves living in the house.
Staging a home can turn your once cluttered home into a blank slate for home buyers, improving your house's likelihood of selling.
You need to remember the age old saying, "you never get a second chance to make a first impression," when you start staging your home.
1.

     
Clean out closets, cabinets and rooms
Your initial step to staging your home is to take out and clean out every nook and corner of your home.  There are chances that a serious buyer will no doubt look into everything even by opening closets, cabinets and everything available. Remember that buyers will try to knock down the price even if they find the tiniest of issues that would warrant asking for a discount. It is suggested that you leave 20 to 30 percent of the room open and empty when staging your closets, so customers can see what it looks like once your possessions are gone.
2.

     
Apply fresh coat of paint
When you first bought your home you would have painted the rooms according to your tastes, but when staging your home for buyers, it is best that a fresh coat of paint is applied preferably in neutral colors. Grey and beige is highly recommended. 
3.

     
Refrain from "over-staging" your home
When you stage your home, don't get carried away. It can be a mistake to go overboard with anything, even flowers or decor. For example, always endeavor to strike the correct equilibrium between a staged home and a lived-in one, by avoiding setting your dining table to perfection. Instead you could place a bottle of wine with two glasses on the side of the dining table.
4.

     
Clean out bathrooms
An important part of any house is its bathrooms. Today's houses have at least three attached bathrooms including a maid's bathroom as well.  Buyers are particularly concerned with the bathrooms rather than the sitting room or dining room. Hence, be sure you use necessary disinfectants, tile cleaners that remove stubborn stains and keep the bathrooms sparkling clean.
5.

     
Fresh Smelling 
Fragrant houses give a lasting impression on buyers.  You no doubt will not want to see prospective buyers who enter your house, wrinkle their noses at the smell of stale food or musty interiors.  If you have doggies and pussycats around, you need to clean out their little beds and mattresses and best have been in their abodes outside your home.