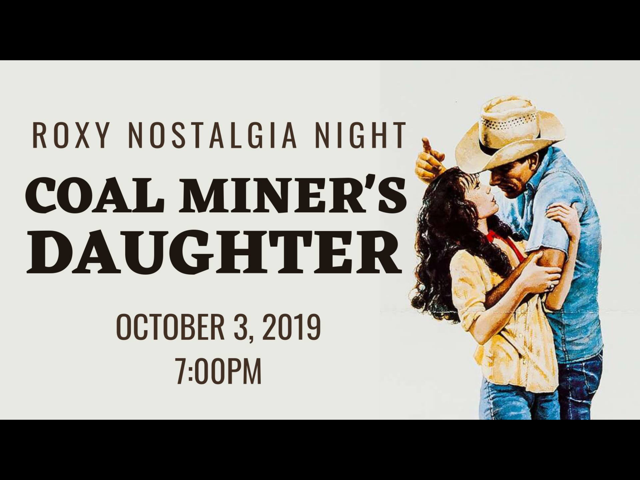 I am a huge fan of the 80's....specifically the music & movies. Maybe some of my clothing choices, too. Actually, The 80's were RAD, and if there is anything that can take me back to it...well, I am STOKED!
This is why I want to pass the message along that The Roxy Theatre, in downtown Owen Sound, would like you to TOTALLY dive into their historic past on Thursday, October 3rd, as they head back to the 80's.
It is Roxy Nostalgia Night and they will be stepping back in time, showing you the last film screened,....well.... at The Roxy. This will be taking me back to my teen years...how about you? Time to brush up on 80's talk.
It all starts at 7pm...showing Coal Miner's Daughter, starring Sissy Spacek & Tommy Lee Jones. If you have not seen this movie [enter gasp & surprised face here], then it is a MUST see! It is an Oscar-winning film which follows the fascinating life of country music legend, Miss Loretta Lynn.
Not only does the Roxy want to CHILL with you to view the film....chuckle....they want you to come dressed in 1980's style,...that's if you dare! Think of it as a pre-Halloween costume dress-up rehearsal. Chuckle. See what I did there? Rehearsal. Costumes. Theatre. But, seriously,...it will be TUBULAR as you are brought back to the past.
So, on top of having a WICKED night out...(think of it as date night, or Girl's night)...you will be helping out the Roxy Theatre. Proceeds raised from the screening will go towards the Refresh the Roxy capital campaign.
Get ready for Thursday, October 3rd at 7pm, with a $15 admission - dress like you stepped out of the 1980's, if you dare. More info can be obtained at roxytheatre.ca or give them a shout at 519-371-2833.
It'll be a GNARLY/BODACIOUS evening.