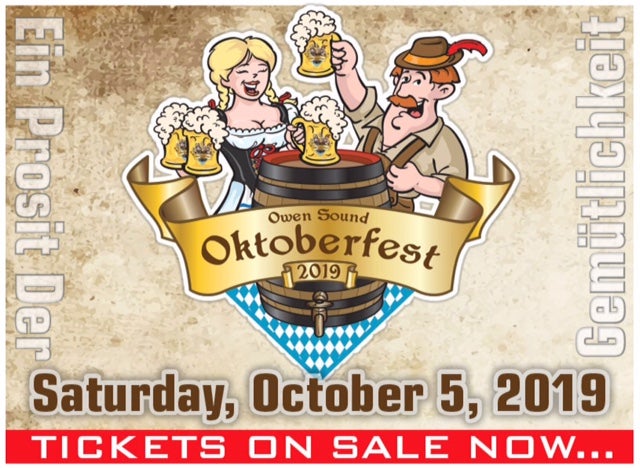 Say what?! It snuck up on me...the 5th Annual Owen Sound Oktoberfest is taking place October 5th. I must say, I have never been. Why?! I am always shy to go out to these events, and if you see anything ever posted about Oktoberfest...it is anything but shy. If you are like me, we really need to make plans to attend and we really need to stop and smell the würstl (sausages) & brezen (pretzels)!
I hear from all my friends that Oktoberfest ist Wunderbar. Interesting...the phrase means beer corpses, or...snoozing drunks. Not chocolate. LOL I think I really do need to check out what it is all about and educate myself. Besides, my guy was born in Germany.
If you look up Oktoberfest, you will find that it is the world's largest Volkfest, which takes place in Munich, Bavaria, Germany. It is a folkfest that runs from mid or late September to the first Sunday in October. More than six million people from around the world attend every year. On October 17th, 1810, the first Oktoberfest was opened with a big horse race.....to celebrate the marriage of Crown Prince Ludwig & Princess Therese of Sachsen-Hildburghausen. But, enough about history. Let's jump to October 5th, 2019 when the 5th Annual Owen Sound Oktoberfest takes place.
Ein Prosit, ein Prosit Der Gemütlichkeit....(one cheer, one cheer towards friendliness) - besides going out to eat, drink and be merry...you will be helping a very important cause. Proceeds of the event are to benefit Radio for Oncology. The Owen Sound Regional Hospital is a centre for cancer care in Grey-Bruce. It is known that every year, Doctors at the GBHS Cancer Centre book thousands of Appointments for cancer patients. A local Radio station, 92.3 the Dock heads up this campaign.
What more can I say? Well, it takes place at the Owen Sound Legion and runs from 7:30 to midnight. It is an age of majority event, as there will be a cash bar. Think entertainment & dancing....you can expect an Oktoberfest Band and DJ. Beer & pretzels & schnitzels & more. You are encouraged to wear costume. They will have door & raffle prizes. Why have I not taken in this wonderful event, yet?!
How do you get tickets? Through their sponsors, which you can find at FB.com/owensoundoktoberfest or tickets through http://oktoberfestos.com
(I would like to thank my buddy, Gabe Nowak, for helping me out with the German phrases.)
Now,....OANS, ZWOA, DREI, G'SUFFA!
I had to ask, too....ONE, TWO, THREE & DRINK!
Happy Oktoberfest!
- Donna