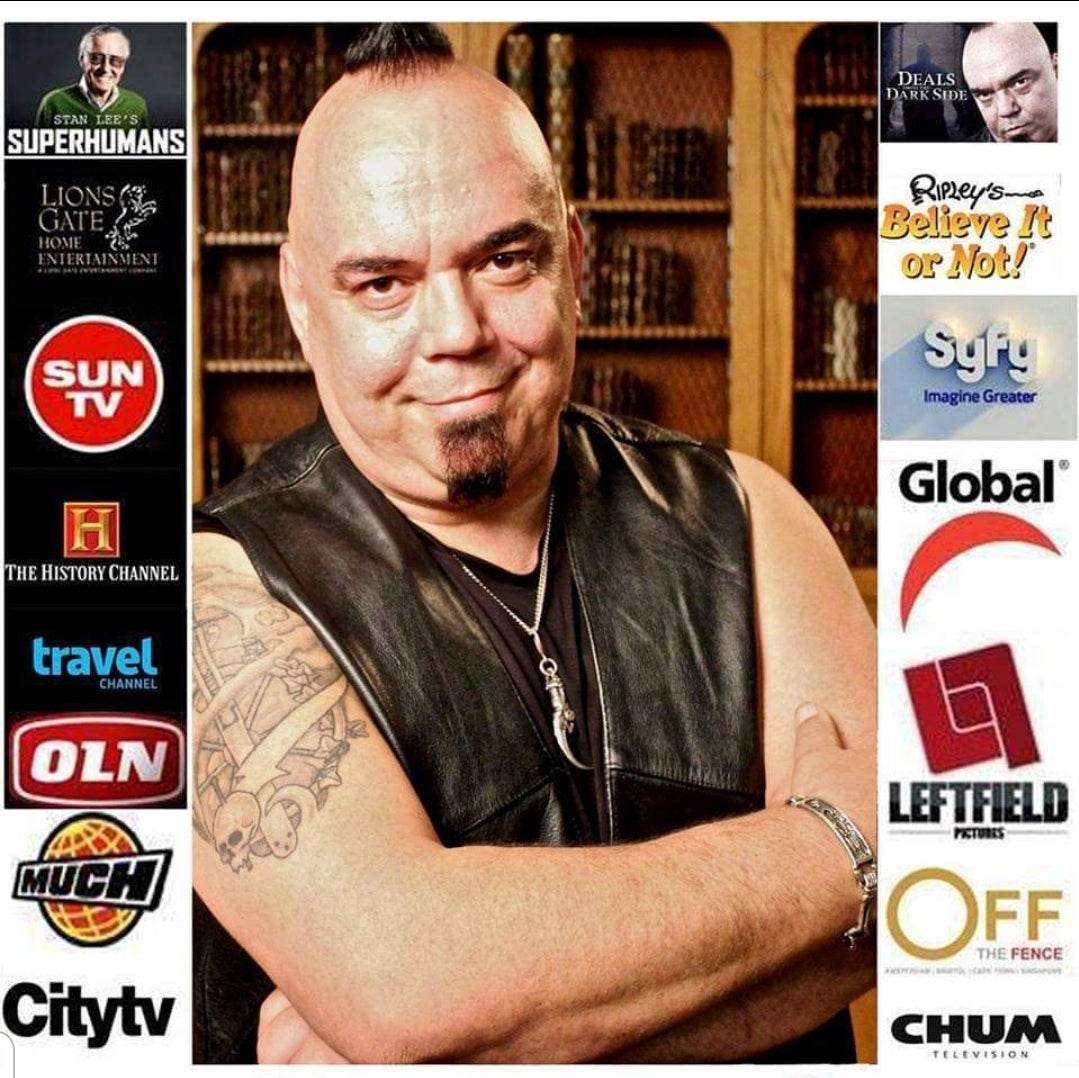 I must admit...I asked the same question when I first moved here. My co-worker looked at me dumbfounded and told me to "google" Mr. Santini. My first reaction was....oh geez,...yes, I have seen him before. Omg, REALLY....a celebrity amongst us??? And, WHAT??! He lives here in Owen Sound?! I just had to meet him, you know, to cross another item off my bucket list. To me, meeting Steve Santini would be like meeting Houdini.
Luckily, I was a Radio Host and was able to have him in studio for an interview. Otherwise, it would be kind of creepy, paparazzi-ish trying to get to know him. So, I finally got to meet "The" Steve Santini. Oh, I've seen how people react to him....pretty sure some people think he is simply a ghastly goth freak. Soooo NOT true, people. Not, true!
So, who is he? Before I send you to his website, I will tell you this,...he is an Author, Historian, Television Personality, Inventor, Entrepreneur, and Extreme Stunt Performer. He was named, "World's Most Extreme Escape Artist" by Ripley's Believe It Or Not. He has starred in Deals From The Darkside, and has appeared in Stan Lee's Superhumans.....just to name a couple.
He has assisted, provided props or consulted for these shows/films/companies (again, just to name a few):
Hannibal - tv series, NBC
Titanic
Polar
Escape Plan
Oddities
Pawn Stars
Warehouse 13
If you take the time to actually get to know him, you'll find a very interesting and kind person. For instance, what does the National Geographic Museum in Washington & the Ronald Reagan Presidential Museum in Simi Valley, California have in common? Steve has worked with them. Yes, he works with some very important people and institutions worldwide. He is a Collector of Note and Historian specializing in: The RMS Titanic Disaster and Titanic related artifacts,....and... Witch Trials and Witchcraft Persecutions. Steve had worked with numerous international museums and has assisted with International auction houses. Although this guy is from Toronto originally...he lives right here in our backyard, as our neighbour, in Owen Sound.
Why here in Grey County? He did live here for 2 years when he was 18, but long story short...his family moved here a few years ago from Manitoba. And, well...he has been here ever since.
If you are wondering, like I did, how Steve Santini actually got into being an Extreme escape artist...here it is:
When he was 13, he did a book report on The Great Houdini. He started experimenting to see if a person could really accomplish the feats Houdini pulled off. So, being interested in Houdini naturally led to an interest in many branches of the magical arts. He was keenly interested in the psychology of the mind and how people perceive reality. This led to his study of hypnosis. He began performing hypnosis stage shows in the early 20's.
For 2 years, Steve and his wife, Vera, operated a museum of the history of escape artists called Escaporium, which was located on Carney's Lane in Owen Sound. They were hoping to make a museum out of the old jailhouse in order to install their massive criminal punishment relic collection....how appropriate. Sadly, that did not happen. A few years ago, he was one of a team of experts that authenticated the violin played by the band master of the Titanic as it sank. It went on to fetch over $2 million dollars at auction in the UK. Talk about a proud moment being involved with history in this way.
He is kind & generous. For 4 years, he led the Zombie Walk in Owen Sound in order to collect food for the Salvation Army Food Bank. Man, I miss those days! Super fun!
What does he do now? He works with leading museums and auction houses worldwide where he authenticates rare artifacts and installs his diverse artifact collections.
So really....who is Steve Santini? Someone who loves To Sir With Love & The DaVinci Code, his wife's delicious German Schnitzel (I am still waiting on a dinner invitation- Hint, Hint). He is a man who's favourite seasons are Spring & Fall. He loves to travel and take in new cultures and history. His favourite subjects and pass times are....surprise.....Archaeology & History. I think it is safe to say that he enjoys Halloween. And, his favourite people in the entire world are his wife and daughter, Vera & Shaina.
In my opinion, he is knowledgeable, caring, accepting, funny, a star and his name alone is fascinating! Most importantly, he is my friend.
For more information on Steve or to contact him, please visit Santinicentral.com
- Donna