Do you want to own a property? Owning your own home comes with many advantages that no one can ignore. You can keep your best pets, get tax advantages, save money, have a pride of ownership among many other benefits.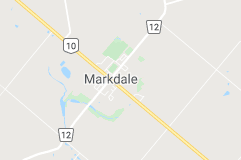 Whether you are an old or a new Canada resident, Markdale is one of the best places to settle. There are several reasons why you should purchase property in Markdale, Ontario.
 Pocket-friendly As you want to buy a home, you don't have to go to that expensive place. All you need is a good house that is secure, and that will be enough for your family. In Markdale, properties are not that expensive, and you can easily afford one. Again prices will differ depending on the house you want, where it is, quality and the size of the house. This means you will always get the one that suits your budget. 
 Social amenities Another great reason why you should purchase a property in Markdale is the availability of social facilities. You will not have to travel to other areas to get public services. There is anything that you may need as this is an old township. The available public services include Grey hospital, fire department, Ontario provincial police department, golf club, community centre, public library, among many other facilities that you may need. 
Varieties You might be looking for Markdale property for sale but not sure of what you are specifically looking for. If this is the case, you don't have to worry as you will have a wide range of property to choose from. There are so many options starting from smaller houses to bigger ones. All you need is to give your agent specifications on what you are looking, and everything will be easy. 
 Long term investment Markdale is a developing area and properties are adding value daily. This means any property you buy now you will have greater chances of selling the same property at higher prices in future. Even if you don't want a home now, you can buy one and keep it as an investment. A property may earn you more than what you could get when earning interest from your savings account.
Customize After buying a property, you acquire full ownership, and you can now customize it to have exactly what you want. In a rented apartment, you may not be able to change the house to get what you want as you are not the real owner. By getting a chance to customize a home, you enjoy it better and even add value to it. For example, when you change colors, kitchen, washrooms and any other change, you can sell the same property at a higher value. Conclusion Markdale is one of the best places to buy a property in Ontario, Canada. If you were searching for "
Markdale property for sale
", don't worry any more as there is a wide range of varieties where you can choose from. Remember to select the best agent before buying any property.